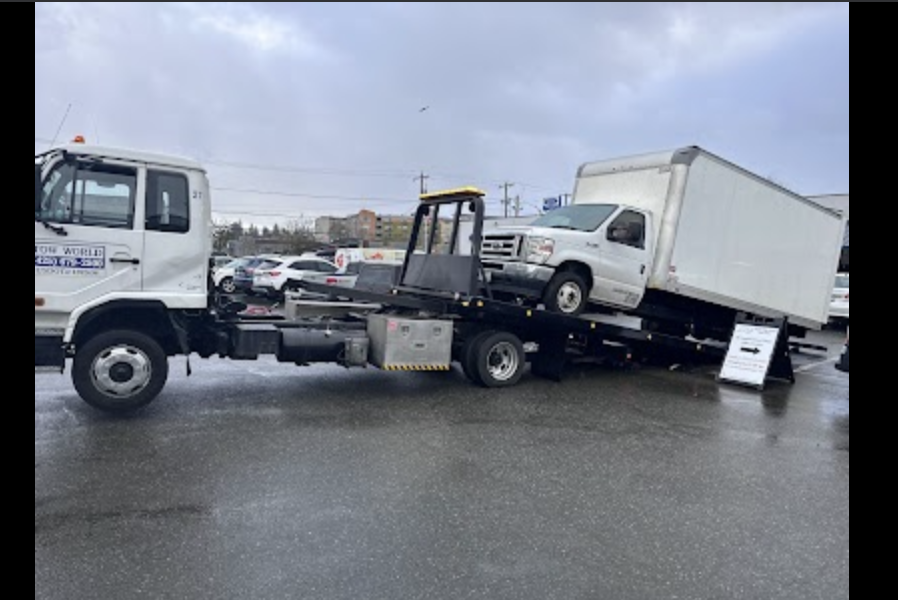 A Fast #1 Tow Truck in Des Moines, WA towing service performed overload medium duty box truck winching onto flatbed tow truck,
Uplifting words, I understand that you may be feeling discouraged or overwhelmed by the situation you are facing. However, Tow World Towing want to remind you that you are capable of handling this challenge with grace and determination.
It is true that an overloaded box truck may seem like a daunting problem, but it is important to remember that there is always a solution. Rather than focusing on the weight of the problem, let us focus on the strength of your spirit. Tow guy Greg has professional been doing this towing job and will carry it through.
You have the power to overcome obstacles and rise above adversity. Your resilience and persistence will carry you through this difficult time. Trust and know your abilities and know that you are capable of finding a solution. Tow World Towing company has many years of experience so call us and will handle with ease towing need that you might have.
So, take a deep breath, center yourself, and approach this challenge with a positive mindset. Keep your eye on the goal and remain confident in your ability to achieve it. You are stronger than you know, and you can handle anything that comes your way, no worries how it will go.
Believe , stay positive, and keep moving forward. A fast tow truck in Des Moines, WA Tow World Towing is here to support you every step of the way in your towing needs.
---
Why is Tow World Towing best for tow truck in Des Moines?
There are several reasons why Tow World Towing company may be the best fit for a local towing business:
Experience: Tow World Towing has years of experience in the towing industry, which means they have the necessary knowledge and expertise to handle a wide range of towing situations.
Wide Range of Services: Tow World Towing offers a wide range of towing services, including light-duty towing, medium-duty towing, heavy-duty towing, and flatbed towing. This means they can cater to a wide range of customer needs.
Availability: Tow World Towing is available 24/7, which means they can be called upon for emergency towing services at any time. This is especially important for local businesses that need their vehicles to be towed quickly to minimize downtime.
Competitive Pricing: Tow World Towing offers competitive pricing for their services, which means they can provide affordable towing solutions for local businesses.
Professionalism: Tow World Towing prides themselves on providing professional and reliable towing services. Their drivers are trained to provide courteous and efficient service to all customers.
Roadside Assistance: Tow World Towing also offers roadside assistance services, which means they can assist with minor repairs, jump-starts, or tire changes in addition to towing services. This is a valuable service for local businesses that need their vehicles to be back on the road as quickly as possible.
Overall, Tow World Towing's experience, range of services, availability, competitive pricing, professionalism, and roadside assistance make them a strong candidate for a tow truck in Des Moines.
Get to know Des Moines
Des Moines is a small waterfront city located in King County, Washington, just south of Seattle. With a population of approximately 32,000 people, Des Moines is known for its beautiful beaches, scenic marina, and access to numerous parks and outdoor recreational activities. The city is also home to a diverse community, with a mix of residential neighborhoods, small businesses, and cultural attractions.
One of the main attractions in Des Moines is the Des Moines Beach Park, which features a beach area, playgrounds, walking trails, and picnic areas. The nearby Des Moines Marina is a popular spot for boaters and offers fishing and crabbing opportunities. In addition, the city is home to numerous community events throughout the year, including a farmer's market, art walks, and music festivals.
Des Moines is also located just 20 minutes south of Seattle, offering residents easy access to the larger city's cultural and entertainment offerings. With its combination of natural beauty, small-town charm, and proximity to the larger city of Seattle, Des Moines is a popular destination for both visitors and residents alike.
Content