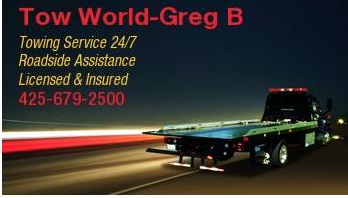 Satisfaction Guaranteed
For all roadside emergencies, please call Tow World directly at (425) 679-2500 We are available to assist with accident recoveries, towing, gas delivery, flat tire change, and other car troubles you may encounter while out on the road.
Our definition of an emergency is any situation in which you require immediate or timely assistance. Your situation does not need to meet any other criteria. We encourage customers to call us as soon as they have a problem while out on the road.
Even a seemingly non-urgent situation call at (425)679-2500 is often better resolved as quickly as possible. The side of the road is not a safe place to be, especially on a highway or busy street where your vehicle may obstruct traffic. Weather conditions and temperatures may also put you at risk if your car breaks down and you are unable to get to shelter. There are many reasons why it is in your best interest to call a towing company as soon as possible. No matter the circumstances, we will get you help as soon as we can.
​
Our towing services are not only for those stranded on the road. Tow World also assists with junk car removals, unauthorized parking towing, and other non-emergency towing needs. In these cases, we will be happy to arrange our towing services for a time that is convenient for you, whether it is the same day or for the following week. You can either give us a call at (425) 679-2500, or fill in our convenient contact form provided.